On the Silver Bank, Dominican Republic
Snorkel with Humpback Whales
March 12 - 19, 2022
Safari Overview
In the warm waters of the Dominican Republic, the world's largest concentration of humpback whales converges to calve and mate on the Silver Bank. This time of year is peak breeding season which will provide you with once-in-a-lifetime experiences of in-water encounters and whale watching. Witness males vying for the coveted "escort" role and hear them sing their famous songs. Slip into the water to see curious calves as they follow their mothers and drink their rich milk. Absorb Ted's extensive knowledge of photographic techniques and of the behaviors, anatomy, and temperaments of the North Atlantic humpback whales. When the weather cooperates, and it normally does this time of year, you'll get close-up photos of surface activity like breaching, flipper-slapping, and competitive interactions. You'll also come eye-to-eye with whales during soft-in-water encounters. Nothing compares to sharing the water with a whale!
HIGHLIGHTS:
• Swim alongside humpback whales, including docile mother-and-calf pairs whose curiosity brings them eye-to-eye with you for an unforgettable experience.
• Take advantage of opportunities to photograph the intricacies of whale behavior and learn how to interpret these behaviors from our expert leader.
• Discover the Silver Bank, an important whale breeding and calving site within the Sanctuary for the Marine Mammals of the Dominican Republic, during five total days of in-water whale interaction (half a day longer than other tours).
Itinerary Updated: December 2019
Ship Info
FAQ
Our Trip Leaders
Ted Cheeseman
Ted grew up traveling extensively and began studying and photographing wildlife as a child. After completing a Master's degree in Tropical Conservation Biology at Duke University, Ted returned to California to lead and organize expeditions full time with Cheesemans' Ecology Safaris. Ted currently leads expeditions to Antarctica, the Arctic, and the Caribbean and obsesses over humpback whales identified around the world through the citizen science project Happywhale.com. Ted is working on a Ph.D. on humpbacks at Southern Cross University, New South Wales, Australia.
Ship Information
Turks & Caicos Explorer II
The Turks and Caicos Explorer II is the best platform for whale watching on the Silver Bank. It is 124ft long with a 22-ft beam. The vessel will be our hotel for the week on the bank, anchored in a sheltered spot on the reef while we venture out by tender to share our days with the whales.
More Information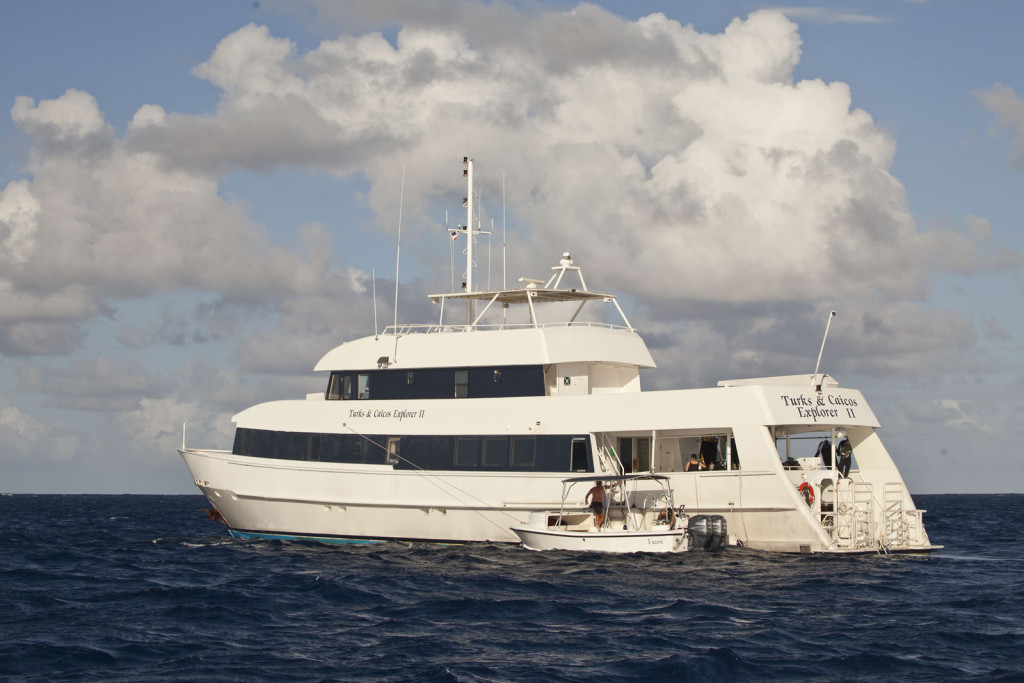 Cost & Payments
Costs (in US$)
| Type | Description | Cost Per Person |
| --- | --- | --- |
| Lower Deck | Double occupancy, twin-sized upper and lower beds, porthole window, cabins 8, 9, 10. | $5,520 |
| Main Deck | Double occupancy, two lower twin-sized beds, desk, chair, large windows, cabins 3, 4. | $5,720 |
| Main Deck | Double occupancy, queen-sized bed or two lower twin-sized beds, desk, chair, large window, cabins 5, 6, 7. | $5,720 |
| Upper Deck | Double occupancy, one queen-sized bed, TV, desk, chair, large window, cabins 1, 2. | $6,020 |
Included
Not Included
Climate
Fitness Level
Flights
FAQ
What is the Silver Bank?
The Silver Bank is located about 80mi north of the Dominican Republic and 100mi southeast of the Turks and Caicos Islands, and it's one of the most important breeding and calving grounds for humpback whales in the North Atlantic Ocean. At least 5,000 humpbacks use the Silver Bank from January through early April each year. The Silver Bank Sanctuary, established in 1986, is approximately 200 sq mi (about the area of San Francisco city and county), and now part of the larger Sanctuary for the Marine Mammals of the Dominican Republic.
Water visibility on the Silver Bank varies daily, but averages from 40 to 60ft around the mooring area with occasional particles suspended in the water. The wind, swells, and slight current cause run-off from the coral which determines the amount of visibility. As a whole, the Silver Bank has patchy visibility. The average water depth is approximately 80–90ft. Wind can impede whale watching, so weather will dictate the quality of activity with the whales.
What is a soft-in-water encounter?
A soft-in-water encounter is passive, non-aggressive floating at the surface, in mask, fins, and snorkel, allowing the humpback whales to develop an interest in you. The key is to find a cooperative, tolerant, or curious whale to meet in the water calmly and peacefully on its terms, to experience a rare and treasured encounter between you and that individual. With hundreds of voyages under their belt, our guides can interpret the behaviors of the humpbacks and tell us how to react to them above and below the water. Following instructions is key to successful interactions.
What is a typical day like on safari?
Each morning you depart on two well-stocked tenders for full days of whale observations both above and below water. Activity on the Silver Bank runs in cycles, so you'll have slack periods that vary from day to day. Typically, you return to the ship for lunch but if you experience extraordinary activity, expect to eat lunch on the tenders. If you return to the ship for lunch, you will go back out for the afternoon action, returning to the ship in time for dinner.
Accommodations
Seasickness
Transportation
Conditions